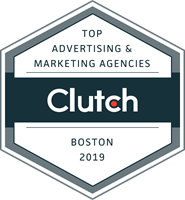 As one of the largest independent advertising firms in New England, it's hard find another advertising firm that's been around as long as we have.
Since our founding in 1948, we've provided exceptional service to our clients, spanning multiple locations and industries. The positive results we've driven for our partners has not gone unnoticed. In fact, we received a recent win for our client, Brookwood Financial. One of the brands (Yesway) in their portfolio received recognition as a standout convenience store chain in Convenience Store News' "Top 20 Growth Chains" for 2019. We support Yesway's marketing needs with the creation and production of cross-channel campaign material, as well as with package design and production for their own line of snack and baked goods. You can read about the full scope of this recognition here.
However, this isn't the only recognition we're proud of this year. In fact, Clutch just announced the top B2B companies in Boston for 2019. The full list of leaders was published in March on Clutch's site. The top performing companies were identified by the Clutch awards team according the quality of their work, thought leadership, brand recognition, and above all, client feedback. Of the Boston agencies selected, Davis is proud to be listed among the top advertising agencies for 2019. While we certainly enjoy any recognition for our specific projects, Clutch is unique in that they hold companies to a standard based on the clients' voice and direct experience. Here's one of our most recent reviews, for instance, speaking to our professionalism and meticulous work ethic: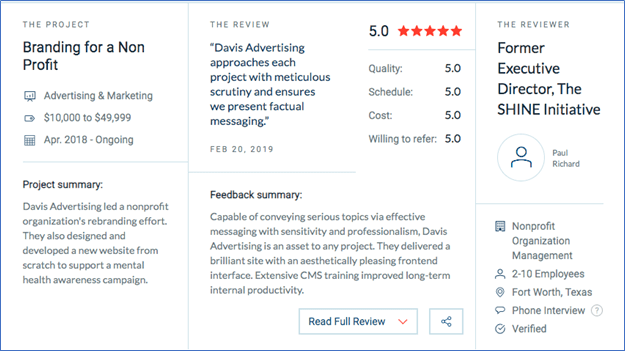 Our Clutch reviews have also led to our presence on Clutch's sister sites: The Manifest and Visual Objects. We have been named among the top media buying agencies in Boston by The Manifest, which provides how to articles and other business news. One of our notable projects and our clients are also feature on our profile. Visual Objects displays the creative work of top ad agencies and shows prospective clients what their own projects could potentially look like.
Overall, we would like to thank our team and our clients for getting us this far. We look forward taking on new projects, and building even stronger partnerships in 2019. We highly encourage you to read more about our services and past client projects on our Clutch profile, and contact us if you'd like to see the same results for your business.